I'm Kelly Shane Kuciemba from Seattle, Washington U.S.A. I play de-tuned electric guitar in DRAWN AND QUARTERED, PLAGUE BEARER and WINDS OF PESTILENCE. I write songs, lyrics and compose music. I grew up listening to lots of different musical styles, but gravitated toward rock and metal. In the early 1990's, I was determined to create extreme underground music in the vein of SLAYER, DEATH, POSSESSED,EXODUS, SODOM, DESTRUCTION, BATHORY and VENOM. I also loved MERCYFUL FATE, KING DIAMOND, BLACK SABBATH and IRON MAIDEN just to name a few of my early influences. Around this time I also discovered CANNIBAL CORPSE, INCANTATION, IMMOLATION, NAPALM DEATH, CARCASS, MORBID ANGEL, PESTILENCE, DISMEMBER, ENTOMBED, MORICIAN, MAYHEM, IMMORTAL, ENSLAVED, EMPEROR and many more bands that had many of my early influences as well! Since then I have recorded over 100 songs and played shows all over the continent. I have toured multiple times and played dozens of METAL FESTS. I have respectable back catalog of recordings, and many releases available for sale across the globe, and many more being created. I am compelled to create. It is the only time I feel satisfied. The only thing I enjoy and have a real passion for is creating. I love to write songs. Since I was a child I was fascinated with record albums, and I have achieved many of life's dreams making these records.

When I started out in DEATH and BLACK METAL, it would have been incredible to have the resources we have available today. Now I have the opportunity to share some early rehearsal demos, live recording pictures art and flyers from the past and provide new demos and rehearsals instantly. Ultimately my goals is to spend more and more time creating new songs, recordings, videos and opportunities to perform live in places I haven't been before or for a while. I'm finding lots of great artists and people who can help me record, master and distribute new music, videos and merchandise. The subscription platform is a great way for me share what I have and interact with fans, and to help fund the projects and artwork. I have years worth of content, and will constantly be creating new demos and albums with my various bands and projects.

I want to thank you for your interest in DRAWN AND QUARETERD. I have spent most of my adult life making these projects happen. The has been 10's of thousands of dollars invested to be able to do it all, from miles driven, instruments and gear, rehearsal rooms, studio costs, travel expenses and a huge tax on my personal life. But it is truly an honor and a privilege to even be able to do this, and so I feel obligated to give it all I've got. But I want to do that intelligently, so I can continue to thrive create and share the message of the ancient ones as dictated. I am merely a conduit through which they speak. I will be releasing content constantly exclusive for subscribers. New and old demos, live recording. My vision ultimately includes streaming shows, rehearsals, guitar workshops and lessons.






Here's what you get:
All the new music we make

streaming instantly on your mobile device via the free Bandcamp app, and also available as a high-quality download.*

Access to subscriber-exclusive messages:

This back-catalog release:
A 10% discount on all our merchandise.
The satisfaction of knowing you're supporting us in a sustainable way.
Join:
For $10/month, you get everything above.

You're a subscriber

Thank you!

For $20/month, you get everything above, plus:

Subscribe for a Season (3 months) and receive an exclusive bundle of Merchandise. Depending on what I have in stock. Value will be equivalent to the cost of a shirt. Shipping included. We'll coordinate what you get, in case you already have that item.

You're a subscriber

Thank you!
* Downloads are DRM-free and available in MP3, FLAC and
more
.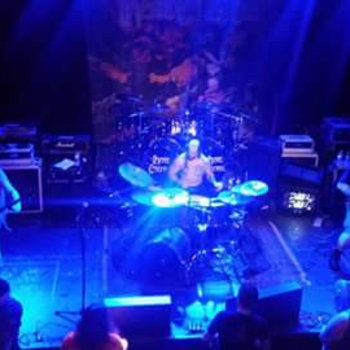 DRAWN AND QUARTERED
Seattle, Washington
Pacific Northwest Death Metal Stalwarts delivering disease and destruction upon the earth. Formed in the early 1990's DRAWN AND QUARTERED have continued on a relentless CRUSADE OF BLASPHEMY spreading it's malevolent PLAGUE worldwide! With 6 Studio Albums, multiple Demos and EP's and a GLOBAL CAMPAGIN OF SATANIC REVOLUTION DRAWN AND QUARTERED unleash a PROLIFERATION OF DISEASE upon the earth!
Latest Release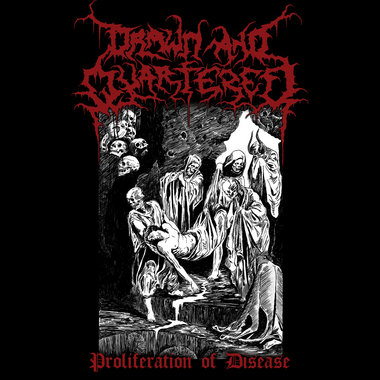 PROLIFERATION OF DISEASE